---
Who are we?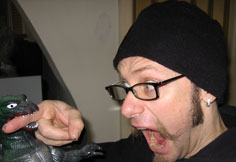 XTIAN
is a fine fellow who works in many different mediums
ranging from digital to collage to painting, etc.
His works have been published / exhibited locally and overseas.
He has authored a number of books - some of them - sometimes - have words in them.
He also writes music, makes strange box objects and is aiming to be in charge of the Moon sooner than later.
He lives in Melbourne, loves tequila and it's
your
shout.
more:
www.gadzooxtian.com
MAT BLACKWELL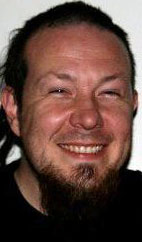 is a musician, painter, collagist, philosopher,
animator, screenwriter, novelist, and part-time chaos-magician
who tends to be more often found under the powernym
"A D Machine" (or increasingly frequently, "A Demon Sheen").
As well as currently writing for "Good News Week", he is a recurring writer for the "Great Comedy Debate"
and the Comedy Festival's "Opening Night Supershow", and wrote for
"The Glass House", "The Sideshow", "The Ministry of Truth",
and helped create the tr00 kvlt masterpieces "Forlorn Gaze", "Hard Rock Jukebox", "Xorctron and Uglifex Prime", and "Bruce".
He is also responsible for solo sound projects "HAARK", "GRIST", "Forgotten Cairns", "Feast of Tomb",
and "The Horn", and group projects "GNAUMGN", "Merge into Stripes", "RAKSHASA", "Space Zombies from the Moon",
"FUCK YOU GOD", "Pig Slash Rhino", and "Dead Ants Rainbow".
Is believed to be involved in some capacity with the infamous IWML,
although at this stage these rumours can not be substantiated.
more:
www.redbubble.com/people/IWML
---
index. what is this? the image. film. free stuff. merch. leave comment. e-mail us. links.
site by XTIAN